Fancy Nancy Books
Browse the complete list of Fancy Nancy books including Fancy Nancy picture books, Nancy Clancy chapter books, and Fancy Nancy activity books and book sets.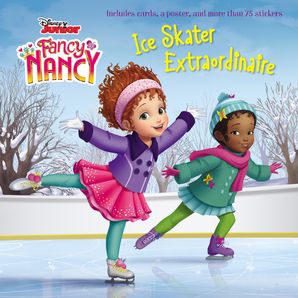 Read an excerpt
Disney Junior Fancy Nancy: Ice Skater Extraordinaire
By Krista Tucker, Illustrated by Disney Storybook Art Team
Description
Based on the Disney Junior TV show and inspired by the classic picture book series, this is a brand-new storybook that's perfect for the Fancy Nancy fan in your life!
Nancy is practically an expert at skating…while playing pretend in her living room! When Nancy and Bree head out on the ice for real, Nancy is 100% positive she'll be an ice skater extraordinaire. But Nancy learns that ice-skating is slipperier business than she thought.
This storybook will help you enjoy your own très fancy day at the ice-skating rink. Don't forget, the most important thing to bring to the skating rink is your magnifique attitude!
Disney Junior's Fancy Nancy is an animated children's series starring six-year-old Nancy, a girl who is fancy in everything from her advanced vocabulary to her creative, elaborate attire. The show is based on the New York Times bestselling book series Fancy Nancy by Jane O'Connor and Robin Preiss Glasser.
Details
Publisher: HarperFestival
Imprint: HarperFestival
Format: eBook
On Sale: 09/04/2018
ISBN: 9780062881762
ISBN10: 0062881760
Pages: 24
Trimsize: 0.000 x 0.000 in
Subcategory:
JUVENILE FICTION / Humorous Stories
JUVENILE FICTION / Media Tie-In
JUVENILE FICTION / Imagination & Play