Fancy Nancy Books
Browse the complete list of Fancy Nancy books including Fancy Nancy picture books, Nancy Clancy chapter books, and Fancy Nancy activity books and book sets.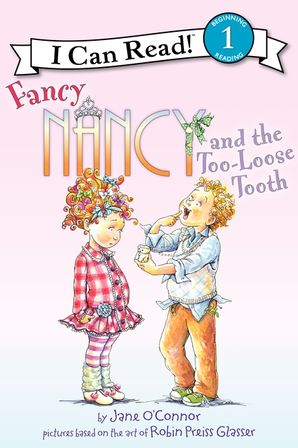 Read an excerpt
Fancy Nancy and the Too-Loose Tooth
By Jane O'Connor, Illustrated by Robin Preiss Glasser
Other Formats
Description
Nancy absolutely must have her first tooth fall out at school. That way she will be sure to receive the special tooth-holder necklace from the school nurse. But when Nancy's tooth starts wiggling at home, she is worried she might lose it before class. How can Nancy make sure her loose tooth falls out at school?
Readers will love this sixteenth addition to the bestselling Fancy Nancy I Can Read series, as Nancy touches upon a subject near and dear to all.
Details
Imprint: HarperCollins
Format: Hardcover
On Sale: 01/03/2012
ISBN: 9780062083012
ISBN10: 0062083015
Pages: 32
Trimsize: 9.000 x 6.000 in
Subcategory:
JUVENILE FICTION / Readers / Beginner
JUVENILE FICTION / Girls & Women
JUVENILE FICTION / Humorous Stories