Fancy Nancy Books
Browse the complete list of Fancy Nancy books including Fancy Nancy picture books, Nancy Clancy chapter books, and Fancy Nancy activity books and book sets.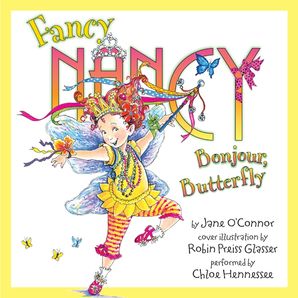 Fancy Nancy: Bonjour, Butterfly
By Jane O'Connor, Robin Preiss Glasser
Description
*NOW A HIT TV SERIES ON DISNEY JUNIOR*
Fancy Nancy thinks butterflies are simply exquisite. And that is why she can't wait for her friend Bree's Butterfly Birthday. It's going to be the fanciest birthday party ever!
But when Nancy finds out she can't go because her grandparents' fiftieth anniversary party is the same day, she is furious. (Mad is way too plain for how she feels.) How Nancy overcomes her disappointment and reconnects with her family is a fun and meaningful story for young readers.
Perfect for fans of the Eloise and Olivia books.
Ooh la la! Fancy Nancy is starring in her own fabulous TV show on Disney Junior. READ THE BOOKS THAT STARTED IT ALL!
Fancy Nancy
Fancy Nancy and the Posh Puppy
Fancy Nancy: Bonjour, Butterfly
Fancy Nancy: Splendiferous Christmas
Fancy Nancy and the Fabulous Fashion Boutique
Fancy Nancy and the Mermaid Ballet
Fancy Nancy: Fanciest Doll in the Universe
Fancy Nancy and the Wedding of the Century
Fancy Nancy 10th Anniversary Edition
Fancy Nancy: Saturday Night Sleepover
Fancy Nancy: Oodles of Kittens
Details
Publisher: HarperCollins
Imprint: HarperCollins
Format: Downloadable audio file
On Sale: 03/20/2012
ISBN: 9780062213303
ISBN10: 006221330X
Trimsize: x in
Subcategory:
JUVENILE FICTION / Holidays & Celebrations / Birthdays
JUVENILE FICTION / Family / Multigenerational
JUVENILE FICTION / Social Issues / Values & Virtues