Fancy Nancy Books
Browse the complete list of Fancy Nancy books including Fancy Nancy picture books, Nancy Clancy chapter books, and Fancy Nancy activity books and book sets.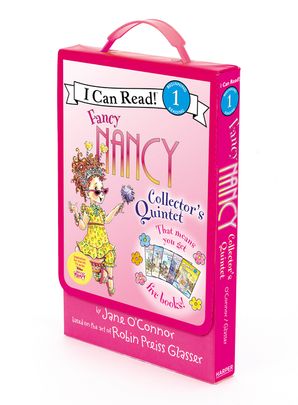 Fancy Nancy Collector's Quintet
By Jane O'Connor, Illustrated by Robin Preiss Glasser
Description
Learning to read has never been so delightful. (That's a fancy word for fun.)
From New York Times bestselling duo Jane O'Connor and Robin Preiss Glasser, Fancy Nancy brings her humor and panache to the world of emergent readers. Five magnificent stories come in a carry-along box with a plastic handle and a velcro closure. This collection is perfect for the newest reader in your family.
Included in this box are five favorite Fancy Nancy Level One I Can Read books:
Fancy Nancy at the Museum: Nancy's class is going on a fancy trip to the museum. A bumpy bus ride leaves Nancy feeling not-so-fancy, but Miss Glass saves the day, leaving Nancy as fancy as ever!
Fancy Nancy and the Boy from Paris: There is a new boy in Nancy's class. He's just moved from Paris! Nancy cannot wait to share her fanciness with someone who will appreciate it. Unfortunately, this Parisian might not be quite as fancy as Nancy had expected.
Fancy Nancy Sees Stars: Nancy absolutely adores stars. She loves how they sparkle in the sky, and she can even name the constellations. When she finds out her class will visit the planetarium she is ecstatic—that's a fancy word for excited. But when it starts to rain Nancy is afraid she might not be able to see the stars. Will the rain keep Nancy from watching stars sparkle?
Poison Ivy Expert: When Nancy picks flowers for Ms. Glass's surprise party, she is overjoyed—until she discovers an unpleasant surprise of her own! How could Nancy, practically a poison ivy expert, come down with something so unfancy?
The Dazzling Book Report: Nancy's first book report is sure to be dazzling. After all, she is the second-best artist in her class. She is using beads, fringe, and a fancy border. And she is writing about Sacajawea, a true-life heroine. What could go wrong?
Each Level One story is carefully crafted using short sentences, familiar words, and simple concepts for children eager to read on their own. Contains a glossary of Fancy Nancy's fancy words.
Details
Publisher: HarperCollins
Imprint: HarperCollins
Format: Paperback
On Sale: 09/22/2009
ISBN: 9780061719059
ISBN10: 0061719056
Trimsize: 9.000 x 6.000 in
Subcategory:
JUVENILE FICTION / Humorous Stories
JUVENILE FICTION / School & Education
JUVENILE FICTION / Readers / Beginner
More Collections & Box Sets