Fancy Nancy Books
Browse the complete list of Fancy Nancy books including Fancy Nancy picture books, Nancy Clancy chapter books, and Fancy Nancy activity books and book sets.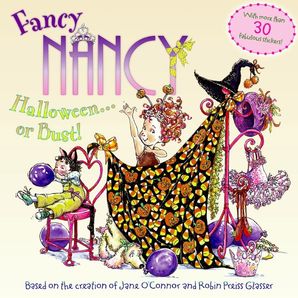 Read an excerpt
Fancy Nancy: Halloween...or Bust!
By Jane O'Connor, Illustrated by Robin Preiss Glasser
Other Formats
Description
Halloween is so much fun! Especially for Fancy Nancy, since Halloween is a time for everyone to get dressed up.
Celebrate the joy of Halloween with your kids with this fun storybook, which includes over 30 stickers.
No one knows Fancy like Nancy...and no one knows Halloween like Nancy! She's so excited to transform into a plume-asaurus dinosaur and help Frenchy the dog become a Hollywood movie star. Even very plain people, such as her parents, get Fancy on Halloween!
This Fancy Nancy Halloween sticker book is perfect for sharing in the home or the classroom, and it makes a fun gift.
Details
Publisher: HarperFestival
Imprint: HarperFestival
Format: Paperback
On Sale: 07/28/2009
ISBN: 9780061235955
ISBN10: 0061235954
Pages: 24
Trimsize: 8.000 x 8.000 in
Subcategory:
JUVENILE FICTION / Holidays & Celebrations / Halloween
JUVENILE FICTION / Humorous Stories
JUVENILE FICTION / Interactive Adventures