Fancy Nancy Books
Browse the complete list of Fancy Nancy books including Fancy Nancy picture books, Nancy Clancy chapter books, and Fancy Nancy activity books and book sets.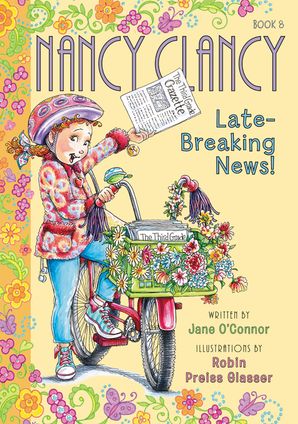 Read an excerpt
Fancy Nancy: Nancy Clancy, Late-Breaking News!
By Jane O'Connor, Illustrated by Robin Preiss Glasser
Description
From New York Times bestselling team Jane O'Connor and Robin Preiss Glasser comes the eighth and final installment of the Fancy Nancy chapter book series: Nancy Clancy and the Late-Breaking News!
Nancy Clancy is working to be the star reporter of the Third Grade Gazette—that's a fancy word for newspaper. When the latest issue comes out, Nancy and Bree decide the articles just aren't interesting enough and set out to find some really exciting news to report on. But when Nancy overhears something she shouldn't and the news gets out, she learns that a good reporter knows when to keep things confidential and may even get some surprising and unexpected news herself.
Details
Imprint: HarperCollins
Format: Paperback
On Sale: 02/27/2018
ISBN: 9780062269720
ISBN10: 0062269720
Pages: 144
Trimsize: 7.620 x 5.120 in
Subcategory:
JUVENILE FICTION / Readers / Chapter Books
JUVENILE FICTION / Concepts / Words
JUVENILE FICTION / Humorous Stories