Fancy Nancy Books
Browse the complete list of Fancy Nancy books including Fancy Nancy picture books, Nancy Clancy chapter books, and Fancy Nancy activity books and book sets.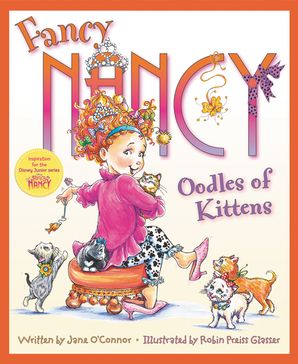 Read an excerpt
Fancy Nancy: Oodles of Kittens
By Jane O'Connor, Illustrated by Robin Preiss Glasser
Other Formats
Description
*NOW A HIT TV SERIES ON DISNEY JUNIOR*
Fancy Nancy returns in a purr-fect story about felines, canines, and making new four-legged friends! A hardcover picture book from the dazzling New York Times bestselling duo Jane O'Connor and Robin Preiss Glasser.
It's raining, and Nancy hears a strange sound coming from outside. Nancy and Bree decide to investigate, and what do they find? Lo and behold! It's oodles of adorable kittens! (Oodles is fancy for a lot.)
After finding some of the kittens good homes, Nancy and Bree each get to keep one for themselves. That's until Nancy's new kitten meets her posh pup, Frenchy. Will Nancy's two pets ever get along? Will Nancy be able to love them both the same?
Perfect for fans of the Eloise, Olivia, and other Fancy Nancy books.
Ooh la la! Fancy Nancy is starring in her own fabulous TV show on Disney Junior. READ THE BOOKS THAT STARTED IT ALL!
Fancy Nancy
Fancy Nancy and the Posh Puppy
Fancy Nancy: Bonjour, Butterfly
Fancy Nancy: Splendiferous Christmas
Fancy Nancy and the Fabulous Fashion Boutique
Fancy Nancy and the Mermaid Ballet
Fancy Nancy: Fanciest Doll in the Universe
Fancy Nancy and the Wedding of the Century
Fancy Nancy 10th Anniversary Edition
Fancy Nancy: Saturday Night Sleepover
Fancy Nancy: Oodles of Kittens
Details
Publisher: HarperCollins
Imprint: HarperCollins
Format: Hardcover
On Sale: 01/02/2018
ISBN: 9780062269874
ISBN10: 0062269879
Pages: 32
Trimsize: 11.000 x 9.000 in
Subcategory:
JUVENILE FICTION / Animals / Cats
JUVENILE FICTION / Animals / Pets
JUVENILE FICTION / Concepts / Words
JUVENILE FICTION / Social Issues / Friendship