Fancy Nancy Books
Browse the complete list of Fancy Nancy books including Fancy Nancy picture books, Nancy Clancy chapter books, and Fancy Nancy activity books and book sets.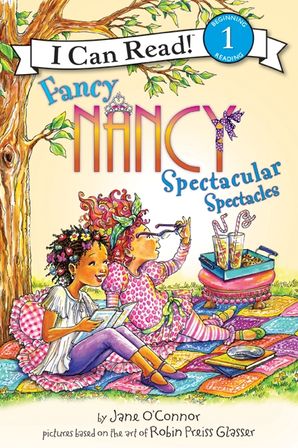 Read an excerpt
Fancy Nancy: Spectacular Spectacles
By Jane O'Connor, Illustrated by Robin Preiss Glasser
Other Formats
Description
Nancy thinks that Bree's new glasses are simply spectacular. After all, they are lavender. They are glittery. And best of all, they come in a silver case. So when Bree tells Nancy all about her trip to the eye doctor, Nancy can't help but wonder if her own eyesight is perhaps getting a little blurry too. . . .
With a glossary of Fancy Nancy's Fancy Words in the back, this addition to the Fancy Nancy I Can Read series is sure to delight young readers everywhere!
Details
Imprint: HarperCollins
Format: Hardcover
On Sale: 06/22/2010
ISBN: 9780061882630
ISBN10: 0061882631
Pages: 32
Trimsize: 9.000 x 6.000 in
Subcategory:
JUVENILE FICTION / Readers / Beginner
JUVENILE FICTION / Humorous Stories
JUVENILE FICTION / School & Education