Fancy Nancy Books
Browse the complete list of Fancy Nancy books including Fancy Nancy picture books, Nancy Clancy chapter books, and Fancy Nancy activity books and book sets.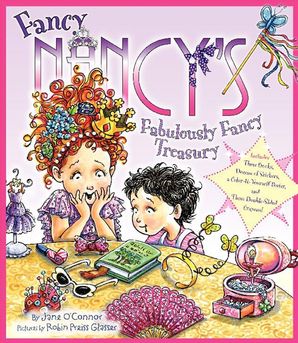 Fancy Nancy's Fabulously Fancy Treasury
By Jane O'Connor, Illustrated by Robin Preiss Glasser
Description
Nancy's fancier than ever in this great new box of classic keepsakes, complete with stickers, crayons, a draw-it-yourself poster, and three Fancy Nancy books.
This extra-fancy box includes three complete books:
Fancy Nancy and the Boy from Paris
Fancy Nancy and the Late, Late, LATE Night
Fancy Nancy and the Delectable Cupcakes
No one does fancy quite like Nancy!
Details
Imprint: HarperCollins
Format: Hardcover
On Sale: 10/09/2012
ISBN: 9780062188045
ISBN10: 0062188046
Trimsize: 10.000 x 9.000 in
Subcategory:
JUVENILE FICTION / Girls & Women
JUVENILE FICTION / Family / General
More Collections & Box Sets