Fancy Nancy Books
Browse the complete list of Fancy Nancy books including Fancy Nancy picture books, Nancy Clancy chapter books, and Fancy Nancy activity books and book sets.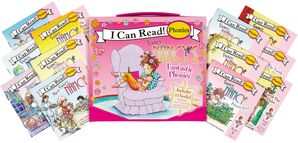 Fancy Nancy's Fantastic Phonics
By Jane O'Connor, Illustrated by Robin Preiss Glasser
Description
In this set of twelve mini-books, New York Times bestselling author Jane O'Connor's beloved Fancy Nancy helps elementary school kids understand phonics. Learning has never been so fun!
Phonics teaches children the relationship between letters and the sounds they make. A child who has mastered these relationships has an excellent foundation for learning to read and spell.  According to the National Institute of Child Health & Human Development, a child who has learned phonics has a method to recognize familiar words and "decode" unfamiliar ones.
Fancy Nancy's lively personality and the full-color illustrations will make learning these vital pre-reading skills enjoyable for parents and children.
Details
Imprint: HarperCollins
Format: Paperback
On Sale: 04/23/2013
ISBN: 9780062086334
ISBN10: 0062086332
Trimsize: 5.250 x 6.750 in
Subcategory:
JUVENILE FICTION / Readers / Beginner
JUVENILE FICTION / Girls & Women
JUVENILE FICTION / Humorous Stories
More Collections & Box Sets