Fancy Nancy Books
Browse the complete list of Fancy Nancy books including Fancy Nancy picture books, Nancy Clancy chapter books, and Fancy Nancy activity books and book sets.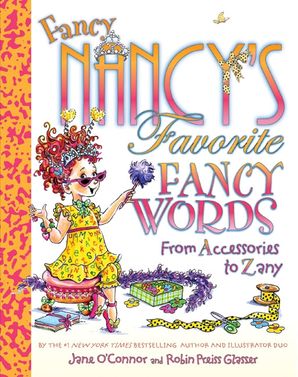 Read an excerpt
Fancy Nancy's Favorite Fancy Words
By Jane O'Connor, Illustrated by Robin Preiss Glasser
Other Formats
Description
From the dazzling bestselling duo Jane O'Connor and Robin Preiss Glasser, a picture book with an educational twist for the fancy girl with an even fancier vocabulary.
Fancy words are simply fascinating! Learn how to speak fancy with help from Nancy in this A–Z guide.
From everyone's favorite fancy girl comes an alphabetical guide to enhancing vocabulary. Why say "beautiful" when there are fancy words like "gorgeous" and "glamorous"? Instead of "hello," try "bonjour," which is French and so much fancier! An umbrella will keep you dry, but a parasol will make you feel like a Hollywood movie star!
With this helpful A-to-Z guide, Fancy Nancy shows that making plain words into fancy ones is not only educational, it's fun. Glossary of words included.
Details
Publisher: HarperCollins
Imprint: HarperCollins
Format: Hardcover
On Sale: 04/22/2008
ISBN: 9780061549236
ISBN10: 0061549231
Pages: 32
Trimsize: 9.000 x 7.000 in
Subcategory:
JUVENILE FICTION / Concepts / Words
JUVENILE FICTION / Family / General
JUVENILE FICTION / Humorous Stories